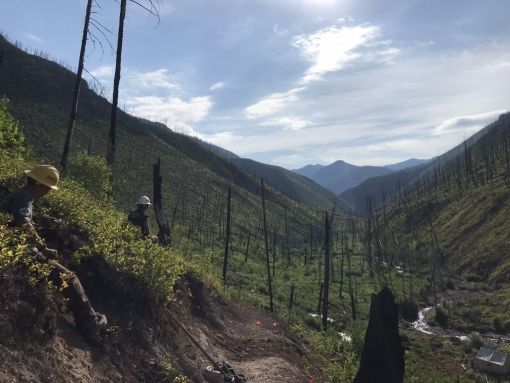 It's been an exceptionally hot and dry August here in Montanaland, making for a uniquely rugged experience for us camped in the burned backcountry of the Bob Marshall Wilderness. It was an experience we won't soon forget!  In our secluded little world, we created new trails for pack mules and hikers alike, due to a landslide that destroyed the original trail. Along with the trail, we created a backslope for long-term maintenance, as well as a berm.
Once finished with that project, we moved on to another spot a couple of miles further into the Bob and cleared overgrown trails. We made sure the trails were up to the standards of fire-line tread, were clearly defined, and built cairns along the way. Also, we planted a new sign post at the junction of the cleared trail, directing packers and hikers to their destinations.
This month's hitches definitely tested our limits with heat, seclusion, dirt, each other, fearless ground squirrels, and other natural elements. By working together and keeping the spirit of team players, we were able to conquer through it all. Though it was quite tough, I am personally glad I was able to experience something so wild and rugged in a place that few others have or will.