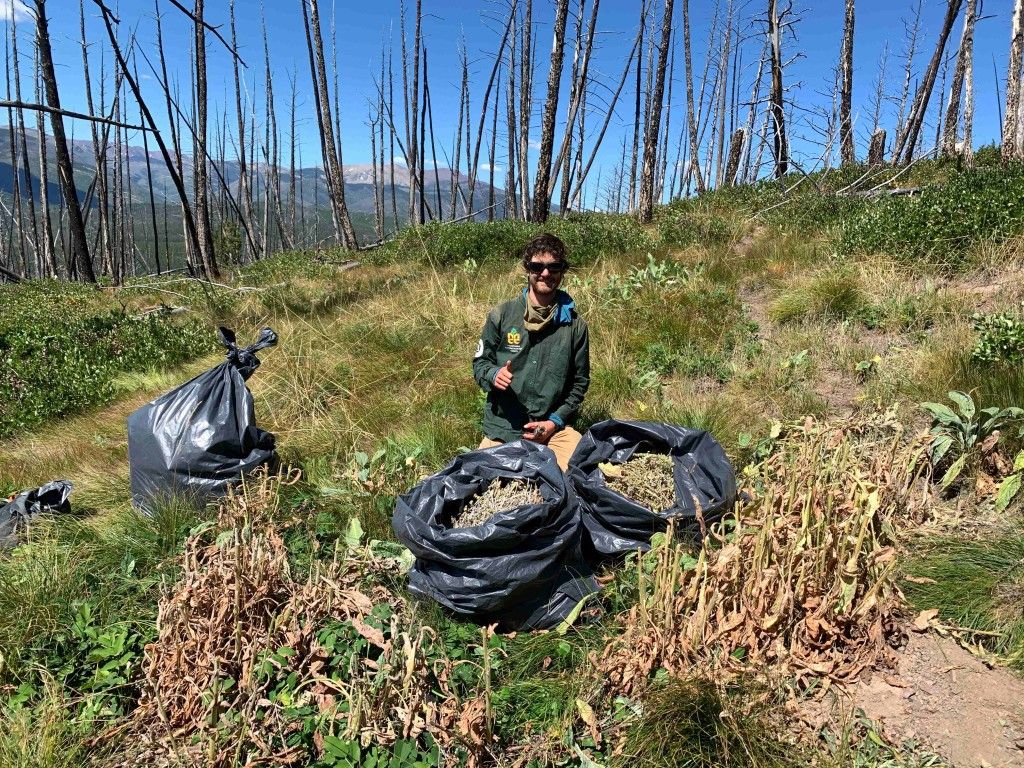 Burn areas present both challenges and intrigue. Upon arriving at our camping spot, we were surrounded by hillsides covered in fallen logs and dead standing. It was an incredible sight to see, so different from the other landscapes we have worked in this season, but we couldn't help but wonder how these obstacles would impact our work day to day.
As we donned our spray packs and headed out to spray oxeye daisy, mullein, and thistle, we all tested out our balancing skills using fallen logs to traverse the field. It took a bit of getting used to hopping the logs, trying our best to not lean too far a certain way and slosh the spray backs around too much. We all ended the hitch with a bruise (or many!) from the branches still attached to the logs.

Our main project goal for this hitch was clipping houndstongue seed heads. Armed with clippers and contractor bags, we climbed up Silver King mountain to the peak and worked our way down. We all moved a bit slower as we were side-hilling as there were many fallen logs hiding in the bushes.  As the wind picked up, we all put on our hard hats and made sure to keep our eyes up and on the dead standing surrounding us. The wind was howling and the trees swayed, but we were lucky to not see any fall. With every contractor bag filled, we all felt proud of what we were accomplishing - it felt great that we had a physical representation of our work right in front of us!