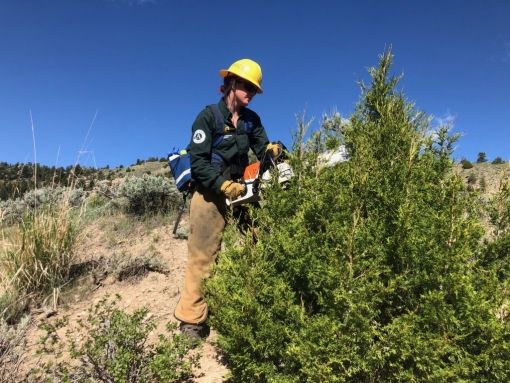 The MCC Women's Fire Crew had set out on our second hitch of the season, located just outside of Cody, Wyoming. Our crew's objective was to remove conifers in order to promote sage meadow rehabilitation, and to improve the flow of water in Ennis Creek. Specifically, we set out to remove the regrowth of conifers following previous restoration projects. Our project partner from the Bureau of Land Management, Sage Decker, met us at the Cody Dispatch Center to brief us. On our crew's previous hitch, we had met not only Sage, but many other members of Wyoming's BLM team. Their warm welcome and kindness made all 12 of us more than excited to start our careers in wildfire fighting. During our previous hitch, we'd reflected often on their work ethic and experience to help us stay focused on our own project.
       
The majority of our crew had never run chainsaws before and we faced new challenges daily. For example, some of the conifers had grown into full trees that needed to be cut. Some conifers proved to be more complex than our crew had originally thought. Grace, one of our crew members, had some difficulty taking down a large Douglas fir on a steep slope. "My back cut was low and it didn't go," said Grace. "I ended up using 6 wedges and still needed a crew leader's help. However, after the tree was safely down, I learned a lot and improved my chainsawing technique." 
The entire crew reflected a lot on the concept of failure and how it can be used as a tool for personal and group growth. Every single member had faced obstacles on this first hitch, but we persevered and improved exponentially from the beginning of the week. We had cut 57.88 acres of our project's prescribed 70 acres. The crew was ecstatic that we accomplished so much of our project in a short amount of time. Personally, I have never seen a group of women grow so much in such a short amount time. With it only being the second hitch, our crew will keep progressing and improving our skills and knowledge into the best version our crew selves can be.