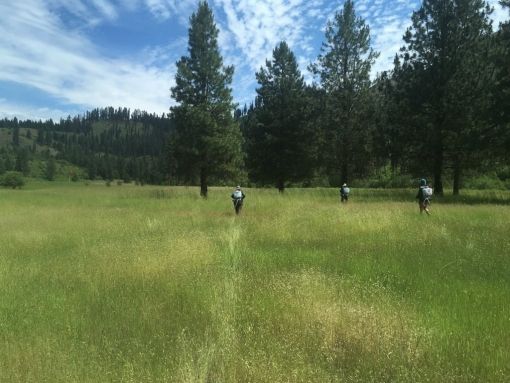 For our first fly-in hitch, we went to the Shearer Guard Station in the Selway-Bitterroot Wilderness area. We were all surprised at the size of the plane when we arrived at the airport, we imagined it maybe being a little bigger. Thankfully, our pilot made us feel very safe and comfortable when flying through the mountains. The flight had some incredible views of the Bitterroot Range; the aerial view gave us all a new appreciation and perspective of the land we were going to be working in.
Our objective for this hitch was to treat noxious weeds on the airstrip. Todd, our crew lead, was here two years previously when it was just a field of knapweed and was pleasantly surprised to see that it was no longer all knapweed. However, other invasives started to move in. In our five days working there we were able to successfully treat the whole airstrip and begin to work along the trails around the area. We all felt extremely accomplished, because in the beginning,  looking at the airstrip was a little daunting - but this hitch proved we were able to work efficiently as a team and SMASH our goal.
After a week of heat and humidity, our hike out was wet and muddy. As we walked along the Selway River, we were all in awe at our surroundings. Foggy clouds were hanging low, intertwining with the trees lining the mountainsides. Our boots were wet but our spirits were high - it's hard to be crabby when everywhere you look is so beautiful. The hike out confirmed for us all that we are so lucky to work in these wild places.