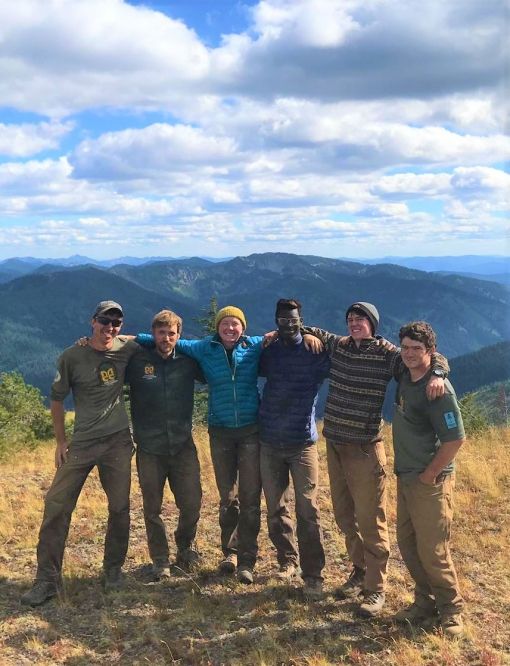 As the season of MCC Western Wildlands comes to a close, I can't shake the feeling that one of these days I'm going to get a message from my crew leaders: "Meet at the office at 6am tomorrow. We've got to be at the North Fork Ranger Station right when they open in the morning." But that message won't come.
Crews are now shuffling around the office settling affairs and packing up their gear for the winter. We've all come together for the first time since the beginning of the season. I look around the circle where we've gathered for instruction and see faces weathered from the sun and a long season, yet fresh with anticipation for the next step of their lives.
Today we slip and slide on fresh snow, but six months ago we were picking up pick-mattocks and single bits for the first time and swinging them at their respective projects. Few of us knew exactly what we were getting ourselves into. I didn't expect to carry a chainsaw atop a full pack seven miles into the backcountry over ankle-rolling, rocky terrain. I didn't know we would then use said chainsaw to clear over 500 trees in seven days. I didn't know that I would often climb out of my tent in the middle of the night to use the "bathroom" only to look up and see a sky full to the brim with stars so bright they lit up the whole camp. I didn't know I was going to hike out of deep canyons and reach some of the most spectacular and remote views a person can reach on foot. I couldn't have known.

My pack has been emptied of gear for the season, but my mind is cluttered with memories. A haiku from an early journal entry transports me back in time to the constant intrusion of ticks and a new kind of fear and disgust they evoked in me.
An itch always there
I keep a lighter handy
Burn, you bloodsucker
Another entry from a few weeks later, on a hitch where we were particularly exposed to the elements, ends in a simple line: "I'm exhausted. I'm filthy. Happiness comes easily out here."
I couldn't have known. But you bet I'd do it again.