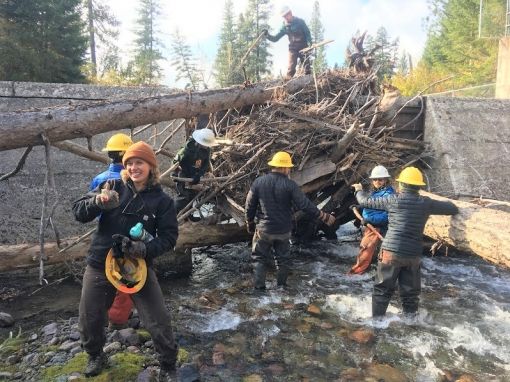 The backcountry season came to a close in October as the Moosebird crew worked for the City of Missoula and participated in the Warm Hearts Warm Homes project in Billings. A second MCC crew joined for the last few weeks, and together the group worked on rehabilitating and refining trails on Waterworks Hill, one of the most popular hiking spots in Missoula. The crew also worked on removing deadfall from a dam in the lower Rattlesnake Wilderness corridor. Three large trees were stuck in the dam and had caught woody debris throughout the summer. Crew members were tasked with cutting and moving the pieces upstream using chainsaws and waders.
It was a slight shock to the system to work in close proximity to the public as the crew had spent most of the summer in the far reaches of national forests and wildernesses. However, after a week working around Missoula, the crew was ready to begin two weeks of Warm Hearts Warm Homes, the first of which was spent in Billings. Weatherproofing was provided and installed for low-income households in the hopes of reducing their energy bills and keeping them warm in the coming winter. Many wonderful people requested assistance, and the crew spent time soaking in the hotel's pool and hot tub after long days.
Wrapping up the season with direct acts of community service was the cherry on top for the Moosebird crew. The summer was filled with strong friendships and deepened connections to the natural world, and it was a privilege to give back to Montana through trail work and Warm Hearts Warm Homes.