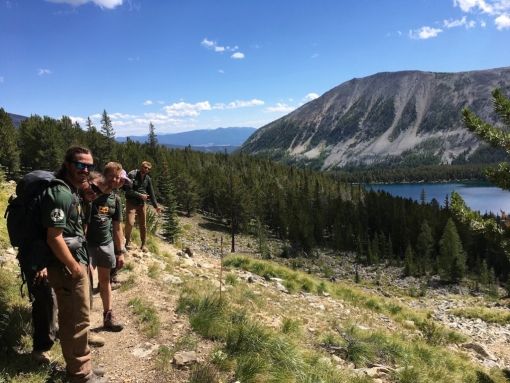 Nine days spent in the Beaverhead National Forest backcountry provided an appreciation for Montana's natural beauty, a can opener's work, the endeavors of mountain yearning legs, and the existence of baby wipes (need not say more). As our crew of six spent our first ever hitch together, we discovered the fun, semi-sarcastic dynamic of our group, the perfect time to wake up to get water boiling, how to swing tools in a way that is in accordance with your back muscles, and who on the crew cares about hiding their farts, and who does not. 
The Big Hole Valley is very Montana-esque, so much so that it must have been shown in at least a few western movies. The Forest Service was so kind to pack in our tools on pack horses, which was greatly appreciated in the record-setting heat. We were to work on a section of the Continental Divide Trail that followed a creek back into the serene forest protected by the Wilderness Act.
Our project partners marked the trail with flags that read "check dam" or "H2O bar", amongst other things. The "scavenger hunt-like" system would lead us back down the trail eight or so miles where we were to find an "end of work" flag indicating our stopping point that happened to be at a pretty, crystal-clear alpine lake. Certainly, we were all suddenly even more motivated to reach our destination.
We pitched camp in a boulder meadow where we rested in anticipation for the early mornings that the next days would bring full of bendings and swingings. We used our trusty grubbing tools to work on rock and log bars. A vast majority of our work involved redirecting runoff and digging drains… and fighting mud that was trying to swallow us whole.
In the heat, it was nice to have the company of a light-hearted, spongebob joke 'crackin crew and the sweet taste of the black cherry MiO. Each day's end brought vegetarian dinners with no surprise of finding beans, tofu, and quinoa somewhere in your tupperware..no matter the dish. After eight nights of opening multiple cans of beans in odd ways, it was an unspoken unanimous decision that a working can opener is a luxury.
It is an empowering thing to use very basic, primitive tools. It is very satisfying to work alongside other individuals on a project and witness significant changes. Throughout the first hitch, I developed an even greater appreciation for the establishment of public lands and was really able to think about what meaning they have given my life. Serving as an AmeriCorps member has made me realize the hard work that is put into trail systems. I feel confident that after our first hitch, our crew will never see a trail the same as we did before. We will now notice its structures and think of all of the sweat that has been shed - by those before us, our own selves, and those after us. I feel deeply humbled and satisfied with this opportunity to contribute my efforts this season to the good of Montana's public lands.