Whitney Tilt | Secretary | Emigrant, MT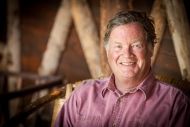 As Director of Lands and Wildlife Conservation for The Arthur M. Blank Family Foundation, Whitney Tilt works with the Mountain Sky Guest Ranch in Emigrant, Montana and addresses larger natural resource issues of the Yellowstone Ecosystem. Whitney is also a partner in High Country Apps LLC, which develops interactive field guides for smart phones and tablets.
Throughout his career Whitney has focused on conservation, working on a wide range of natural resource issues from Colorado River water allocations and black-footed ferret recovery to Asian tiger conservation and evaluation of federal fisheries programs. Whitney has worked for the National Fish and Wildlife Foundation, Sonoran Institute and National Audubon Society, among others. He earned a Masters of Environmental Science from the Yale School of Forestry and began his introduction to the Greater Yellowstone Region by ranching in the Tetons of Idaho. Whitney is author of the book Flora of the Yellowstone. When not working, Whitney enjoys the finer things in life: fly fishing, bird hunting, hiking, and just being outdoors.  Whitney lives with his wife in Emigrant.
Member Since 2017