Lisa Kelley | Helena, MT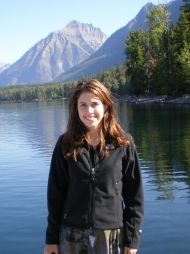 Lisa grew up in Spokane, Washington, and spent summers hiking Montana trails and exploring Glacier National Park with her family. She received her BA in Business Administration from Washington State University and her law degree from Gonzaga University School of Law.  She made the permanent move to Montana after law school in 2006 to clerk for the Montana Supreme Court.  Lisa then practiced law at Hughes, Kellner, Sullivan, and Alke, PLLP, for three years, focusing on land use issues, estate planning, and business planning.  Lisa has been Assistant General Counsel at Blue Cross Blue Shield of Montana since 2010, where she focuses on insurance law and regulation, provider network contracting, and government relations.  She enjoys community service and spent the past year working with the Helena Chamber of Commerce Leadership Helena Program, which focuses on building leadership skills, networking, and serving the local community.
Lisa and her husband, Marcus, were married at Lake McDonald Lodge in Glacier National Park, and are active supporters of the Glacier National Park Conservancy and the Prickly Pear Land Trust. They now enjoy taking their two children hiking and exploring on Montana's trails.  Lisa's hobbies include traveling, cooking, and photography.  
Member Since 2017