Carol Bibler | Chair | Kalispell, MT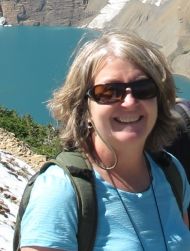 A native Montanan, Carol Bibler is a retired geologist who worked in the oil and gas exploration industry in Montana and coal mine methane recovery in the U.S. and internationally. Since returning to her hometown of Kalispell in 2001, she has served on the Board of Directors of the Montana Land Reliance, the Flathead Community Foundation, and Foy's to Blacktail Trails.  She is also active in a local chapter of P.E.O. (Philanthropic Educational Organization).
Carol and her husband Jim Watson raise bison and Tibetan yak on their ranch near Kalispell. They were introduced to MCC through their volunteer efforts with Foy's to Blacktail Trails, a nonprofit dedicated to providing access to trails and lands connecting Herron Park to the forest lands at Blacktail Mountain.  In their volunteer role, Carol and Jim have interacted extensively with MCC crews who have engaged in trail building and maintenance for the Foys to Blacktail Trails.  MCC has been a valuable asset to this popular community endeavor that includes trails on Flathead County, U.S. Forest Service, and private lands.
Carol has a B.S. degree in Geology from University of Puget Sound and an M.S. in Earth Science from Montana State University.  In her spare time she enjoys horseback riding, hiking, and skiing.  Carol and Jim currently live in Kalispell.
Member since 2016